Thanks to Simon Jervis and Lenka Cathersides for this research.
Arthur Edward W. J. Weller was born in the 3rd quarter of 1886 in Dorking, Surrey. His mother was called Emily Matilda Tickner nee Weller, born about 1863 in Capel, Surrey and his stepfather was called Job Tickner, born about 1870 in Horsham, Sussex.
At the time of the 1891 Census four years old Arthur was living with his mum Emily and grandparents William (born about 1824 in Capel) and Caroline (born about 1824 in Wotton) Weller in Woolpack, Capel. Arthur's grandfather worked as a carter and agricultural labourer.
Arthur's mother Emily married Job Tickner in the 3rd quarter of 1893 in Dorking.
Arthur had 3 half brothers and a sister: Job Tickner born about 1894 in Bletchingley; Beatrice E. Tickner born about 1897 in Dorking; Gilbert Tickner born about 1900 in Dorking and Henry Tickner born about 1902 in Dorking.
By the time of the 1901 Census, the family lived at 13 Ansell Road Dorking and Arthur kept his mother's surname 'Weller'. His stepfather worked as a builder's carter, and Arthur on a farm.
On the 16th of Sep 1904 in Guildford, the 19 years old Arthur enlisted into Army Service for 3 years and 9 years of Reserve Service. Arthur became part of the 2nd Queen's Royal West Surrey Regiment. He enlisted under the surname Tickner.
His regimental number was L/8163 and he was a private. At the time of his enlistment Arthur worked as a fettler and was a Baptist.
He was over 5ft tall and weighted 125lbs. His complexion was fresh and he had olive eyes and brown hair. He had a scar in the centre of forehead and on his left elbow.
During his 3 years in the Army, Arthur served from 16.09.1904 to 02.02.1906 at home and from 03.02.1906 to 06.12.1907 in India (Barian). Arthur was charged several times whilst serving in the Army, mainly for using obscene language to N.C. officers and for overstaying his furlough. Since 07.12.1907 to 11.08.1914 he was on Reserve at home.
On the 25th of April 1908 Arthur married Elizabeth Upward (born in the 2nd quarter of 1885 in Newdigate) at St Nicholas church, Great Bookham, Surrey. Arthur married under the surname Tickner, but the family subsequently used the surname Weller.
Elizabeth was sister of Pte. Harry Upward. Harry lived with her in 1916 after coming back from the USA prior to joining the army.
The 1911 Census reads that the young family, Arthur, Elizabeth and their daughters Elizabeth Constance Maud Weller and Beatrice Victoria, lived at 1 Cotmandene, Dorking. The house had 4 rooms and Arthur worked as a carter in the coal merchant industry. The family used the surname Weller.
Arthur and Elizabeth had 5 children: Elizabeth Constance Maud Weller/Tickner born on the 23rd of Mar 1909 in Dorking; Beatrice Victoria Weller/Tickner born on the 10th of Oct 1910 in Dorking; Clarice May Weller/Tickner born on the 29th of March 1912 in Dorking; Arthur Sidney Weller/Tickner born on the 9th of Jun 1913 in Dorking and Phyllis Mary Weller/Tickner born on the 13th of January 1915 in Dorking. Phyllis was born after her father's death.
Arthur's parents continued to live at 13 Ansell Road at the time of the 1911 Census. Stepfather Job and half-brother Job were both working as carmen. The house had 5 rooms.
Just before the War, Arthur was employed at Messrs. Longhurst and Sons in Dorking whilst previous to that he was engaged by Messers. T. Meakins and Sons. Ltd.
Military History
Arthur mobilised on the 5th of August 1914 and became part of the British Expeditionary Force and was transferred to the 1st Battalion, Queen's Royal West Surrey Regiment. He was still a Private and also had the same regimental number L/8163. Upon the mobilization Arthur again used the surname Tickner. His wife Elizabeth was his next of kin and the family still lived at 1 Cotmandene, Dorking.
Arthur embarked on the 12th of August 1914 on the SS Braemar Castle from Southampton to France.
The 1st Battalion the Queen's were engaged in the 1st Battle of Ypres in Belgium (19 October – 22 November 1914). On the 30th to 31st of October the Queen's were engaged at the battle of Gheluvelt, which was a tiny village near the town of Ypres.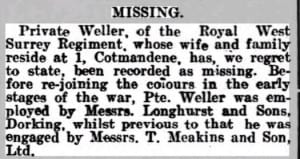 Arthur was reported missing and is considered dead from or since 31st of October 1914. Colonel H.C. Wylly, CB noted in his history of the Queen's that 31st October 1914 "was one of the worst days experienced by the 1st Battalion during the whole war", some 624 men becoming casualties during the fighting around Gheluvelt that day. The regimental history records the battalion's strength after the battle as a total of 32, most of these men being cooks and transport personnel.
His body was never found and he is commemorated at Menin Gate Memorial to the Missing in Ypres, Belgium on panels 11-13 and 14.
Elizabeth was given soldier's effects of £4 and 9s on the 23rd of Jun 1916 and further £5 on later date. His children were paid a Separation Allowance.
Arthur was awarded the British and Victory medals and the 1914 Star.
He was in the Army for 10 years and 46 days.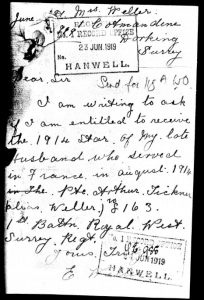 This letter is from Arthur Tickner's wife asking for her husbands medals.
She writes
"Dear Sir,
I am writing to ask if I am entitled to receive the 1914 star of my late husband who served in France in August 1914. Private Arthur Tickner (alias Weller). No 8163. 1st Battn. Royal West Surrey Regt
Yours Truly,
E. Weller
Born

Dorking, Surrey

Lived

Dorking, Surrey

Son of

Job and Emily Matilda Tickner

nee

Weller of 13 Ansell Road, Dorking
Husband of

Elizabeth Upward of 1 Cotmandene, Dorking

Regiment

1st Battalion, The Queen's Royal West Surrey Regiment

Number

L/8163

Mobilised

5th August 1914

Date Overseas

12th August 1914

Date of Death

31st October 1914

Place of Death

Flanders

Cause of Death

Killed in Action

Age
29
Cemetery

Ypres (Menin Gate) Memorial