Thank you to Lenka Cathersides for the following research.
Harry Upward was born on the 27th of Jun 1893.
Harry's mother was called Emily Upward nee Weller; born in the 1st quarter of 1859 in Dorking, Surrey. Harry's father was called Jeremiah Upward; born about 1844 and baptised on the 8th of Sep 1844 in Stourpaine, Dorset.
The couple married on the 30th of Dec 1878 at St John's church in Capel.
Harry had five siblings: James Upward born about 1880 in Newdigate; George Upward born about 1881 in Newdigate; Elizabeth Upward born in the 2nd quarter of 1885 in Newdigate and John Upward born about 1889 in Newdigate.
At the time of the 1891 Census, Jeremiah, Emily and their children James, George, Elizabeth and John lived at Ewood (Mill Cottage), Broad Lane, Newdigate, Dorking. Jeremiah was working as an agricultural labourer.
Harry Upward was registered into South Holmwood Church of England School on the 29th of Aug 1898 by his father Jeremiah. At the time of the school admission the family lived near Norfolk Farm. Harry withdrew from the school in September 1900.
In September or October 1900, Harry's parents Emily and Jeremiah were charged with gross neglect and ill treatment of their two youngest children John (11 years old) and Harry himself (8 years old). At the time the family lived in Holmwood and the house and children were extremely filthy and covered in vermin. Their clothing was ragged and insufficient. The stench of the place was overwhelming. The older boy seemed to be mentally impaired and his glands were enlarged. The blame for the condition was put on Emily, who was said to be drinking. Emily was imprisoned for a month; Jeremiah was fined 5s and the boys had already been removed to the workhouse. The older boy was recommended to be sent to a home for imbeciles and Harry to another home. Sadly, John never got over his maltreatment and in 1919 was an inmate at the (Western Counties) Institution Starcross in Exeter, which was a mental institution.

South Holmwood Church of England School in its 1900 log book entry of the 3rd of Sep states that John and Harry Upward were very neglected children with extremely irregular attendance and that they were removed to the Dorking Workhouse.
By the time of the 1901 Census, Harry's parents Emily and Jeremiah and 20 years old brother George moved in with Emily's sister Sarah Kempshall and her family to Mill Bottom, Holmwood, Dorking. Emily was  working as a charwoman, Jeremiah as a stock man on a farm, and George as a roadman.
During the time of the 1901 Census, Harry was sent to St Michael's Orphanage at Chislehurst, Kent.
By the time of the 1911 Census, Emily and Jeremiah boarded with a widow Harriet Ansell at Beare Green near Holmwood Station, Surrey. Jeremiah was working as a farm labourer and Emily as a charwoman. Two of Emily's six children were already dead.
On the other hand, at the time of the 1911 census, Harry was working as a gardener at the Vicarage at South Benfleet, Essex for clergyman Charles Francis Box. The Vicarage had 12 rooms.
Sometime after the 1911 Census, Harry emigrated to the USA.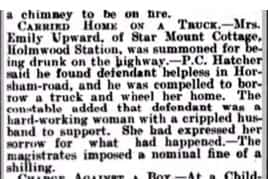 Unfortunately, Emily continued drinking and in 1912 she was charged again for being drunk on a highway. At the time she lived at Star Mount Cottage, Holmwood Station. Emily was found helpless in Horsham Road and PC Hatcher had to borrow a truck and wheel her home. She was fined only a shilling as she expressed remorse. Also, she was said to be a hard working woman who had to support her crippled husband.
Harry's father Jeremiah died in the 3rd quarter of 1915 at the age of 71 in Dorking.
Military History
In April 1916, Harry came back from the USA to join the Army. He stayed with his sister Elizabeth Weller (then married to Arthur E. W. J. Weller alias Tickner) at 1 Cotmandene, Dorking. She was also his next of kin.
Harry enlisted on the 28th of Apr 1916 at Guildford. He became part of the 12th (Reserve) Battalion, Royal West Kent Regiment. He was a private and his regimental number was G14796. He was 22 years old.
On his enlistment paper Harry stated that he is a gardener. He was over 5 feet tall and weighed 126 lb. He had a scar over his right hip and three moles over his right nipple. Although he had slightly flat feet he was still accepted into the Army.
From the 28th of Apr 1916 to the 12th of Sep 1916 Harry served at home. On the 1st of Sep 1916 he was transferred into the 3rd (Reserve) Battalion, Royal West Kent Regiment. On the 13th of Sep 1916 Harry joined the British Expeditionary Force and embarked to France on the same date. On the 29th of Sep 1916 Harry joined the 6th Battalion, Queen's Own (Royal West Kent Regiment).
Just before Harry went missing on the 3rd of May 1917, he was given 14 days of Field Punishment No 2.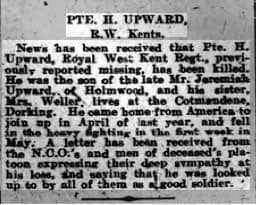 Harry is presumed to have died in an action during the Battle of Arras (April – May 1917) in France on or since 3rd of May 1917.
On the 3rd of May the 6th Battalion was at Happy Valley and tried unsuccessfully to capture the Brown Line trench. His body was never found and he is commemorated at Arras Memorial at Bay 7.
The men from his platoon looked up to him as a good soldier.
Harry's unhappy mother Emily died in March 1919 in Dorking at the age of 61.
His sister Elizabeth received £3, 7s, 6d as soldier's effects on the 19th of Nov 1917 and a further £3, 10s on the 4th of Nov 1919. Elizabeth was also given Harry's personal possessions: letters, 2 photos and stationary. Brother George Upward received a memorial scroll.
Harry was awarded the British and Victory medals. He was in the Army for 1 year and 6 days.
| | | |
| --- | --- | --- |
| Born | Newdigate, Surrey | |
| Lived | Dorking, Surrey | |
| | | |
| Son of | Emily and Jeremiah Upward | |
| Brother of | Elizabeth Weller of 1, Cotmandene Dorking | |
| | | |
| Regiment | 6th Battalion, Royal West Kent Regiment | |
| Number | G/14796 | |
| | | |
| Date of Death | 3rd May 1917 | |
| Place of Death | France | |
| Cause of Death | Killed in Action | |
| | | |
| Age | 24 | |
| | | |
| Memorial | Arras Memorial, Arras, France | |