Thank you to Karen Wilson from Betchworth Village Archives for allowing us to publish her research.
Charles Baxter was born in Cheam on August 22nd 1893 and came to live in Betchworth in 1904 after his mother, Alice Clara Baxter, remarried in 1903. Charles' father, Sidney Baxter, had died in Whitechapel in 1900 when Charles was six – his parents had been married for only seven years.
After his mother remarried (to William Stringer, a coal trimmer at the generating station in East Ham), the family was living in a small house in East Ham. Apart from Charles, there were his two brothers and a sister, quickly followed by two more half-sisters. At that time it was not unusual for the older children in working class families to move out, either to relatives or as live-in domestic servants. It would have been one less mouth to feed and would have also helped to alleviate the cramped living and sleeping conditions.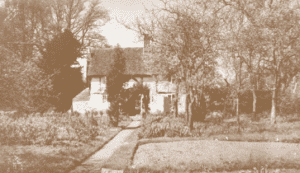 Charles came to live at Nine Acres at Gadbrook with his aunt and uncle Frederick and Jane Flint. Frederick Flint had been born in Betchworth and had lived and worked in the village all his life. He started as a gardener but by 1911 was a gamekeeper.
Despite living at Gadbrook, Charles took part in village activities – it would not have been considered an unreasonable distance to walk in to the village at that time. He entered Betchworth School on April 22nd 1904 and left on July 31st 1907; the school admissions register gives his reason for leaving as 'Worker'. He won prizes for good attendance at Sunday School in 1906 and 1908.
In 1911, aged 17, Charles took part in the Coronation Day Sports event. He was a competitor in the potato and sack races, alongside Jesse Duffell who was 16 at the time. Charles was still living at Nine Acres in 1911 and is described as a 'worker' aged 17 in the 1911 census.
It is unclear when Charles joined up to fight in the war, but he enlisted at Reigate and joined The Queen's (Royal West Surrey) regiment. He was a private in the 2nd Battalion and was killed in action on Sunday, 16th May 1915 during fierce fighting at Festubert. The regimental diaries for the 16th show that 164 officers and men were killed on that day alone, including Charles.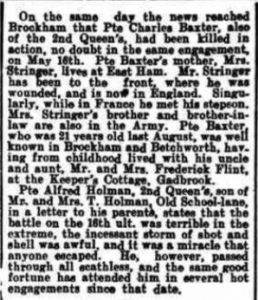 "On the same day the news reached Brockham [that Alfred Middleton had been killed in action] that Pte. Charles Baxter also of the 2nd Queen's, had been killed in action, no doubt in the same engagement, on May 16th. Pte. Baxter's mother, Mrs. Stringer, lives at East Ham. Mr. Stringer has been to the front where he was wounded, and is now in England. Singularly, while in France he met his stepson. Mrs. Stringer's brother and brother-in-law are also in the Army. Pte. Baxter who was 21 years old last August, was well known in Brockham and Betchworth, having from childhood lived with his uncle and aunt, Mr. and Mrs. Frederick Flint, at the Keeper's Cottage, Gadbrook. Pte. Alfred Holman, 2nd Queen's, son of Mr. and Mrs. T. Holman, Old School Lane, in a letter to his parents, states that the battle on the 16th May was terrible in the extreme, the incessant storm of shot and shell was awful, and it was a miracle that anyone escaped. He, however, passed through all scathless, and the same good fortune has attended him in several hot engagements since that date."
Charles Baxter's name is on the Le Touret memorial which commemorates the 13,393 men who were killed in this sector of the Western Front between October 1914 and September 1915 and who have no known grave.
| | | |
| --- | --- | --- |
| Born | | Cheam, Surrey |
| Lived | | Gadbrook, Surrey |
| | | |
| Son of | | Alice Clara Stringer (formerly Baxter), of 65, Mountfield Road, East Ham, London, and William Stringer (stepfather). |
| | | |
| School | | Betchworth School |
| | | |
| Enlisted | | Reigate |
| | | |
| Regiment | | 2nd Battalion, The Queen's Royal West Surrey Regiment |
| Number | | G/3486 |
| | | |
| Date of Death | | 16th May 1915 |
| Place of Death | | Festubert, France |
| Cause of Death | | Killed in Action |
| | | |
| Age | | 21 |
| | | |
| Cemetery | | Le Touret Memorial, France |