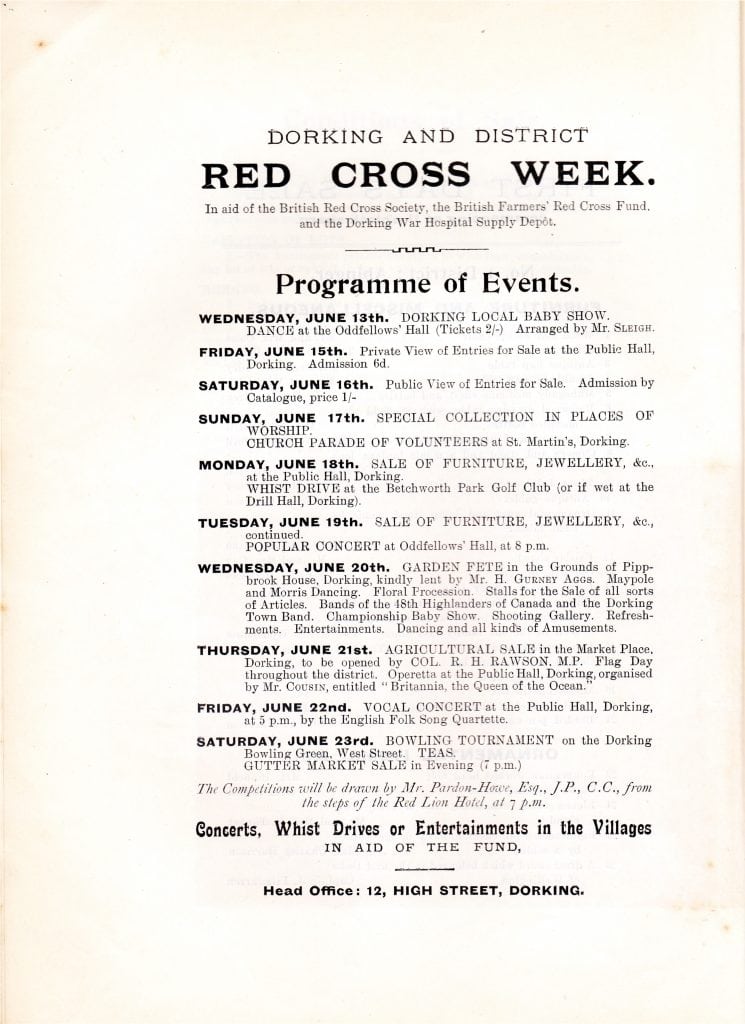 Red Cross Week 1917 was the biggest event of the war years in Dorking and the villages. Running from 13th to 23rd of June, the programme included a baby show, parades, whist drives, concerts, an operetta in the public halls, an auction, an agricultural sale, a flag day, a bowling tournament, and a gutter sale. It raised over £6,000 for the British Red Cross and the Dorking War Hospital Supply Depot.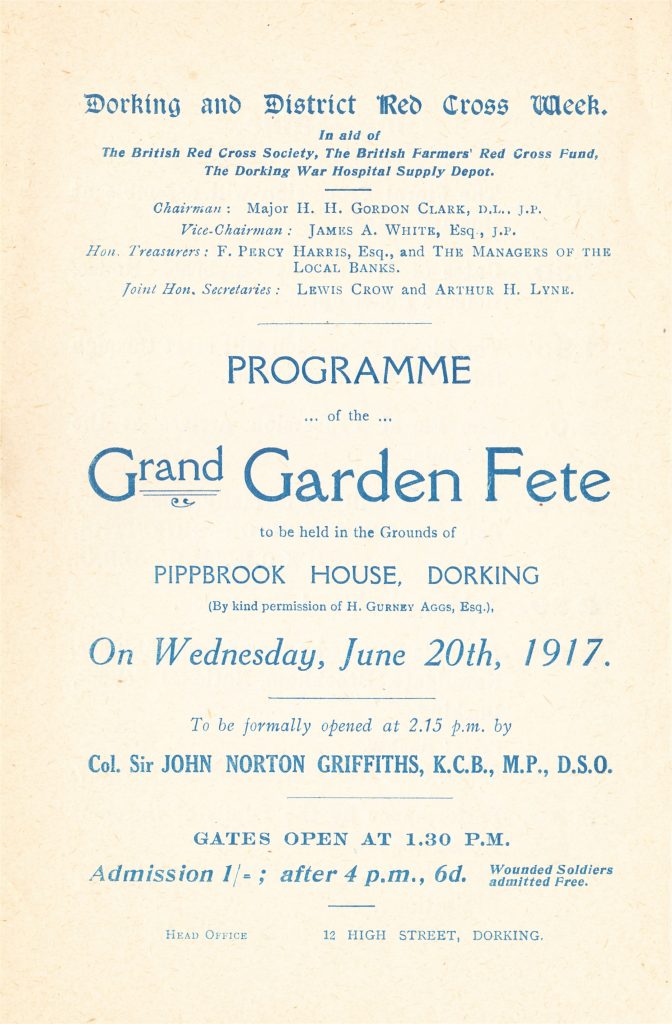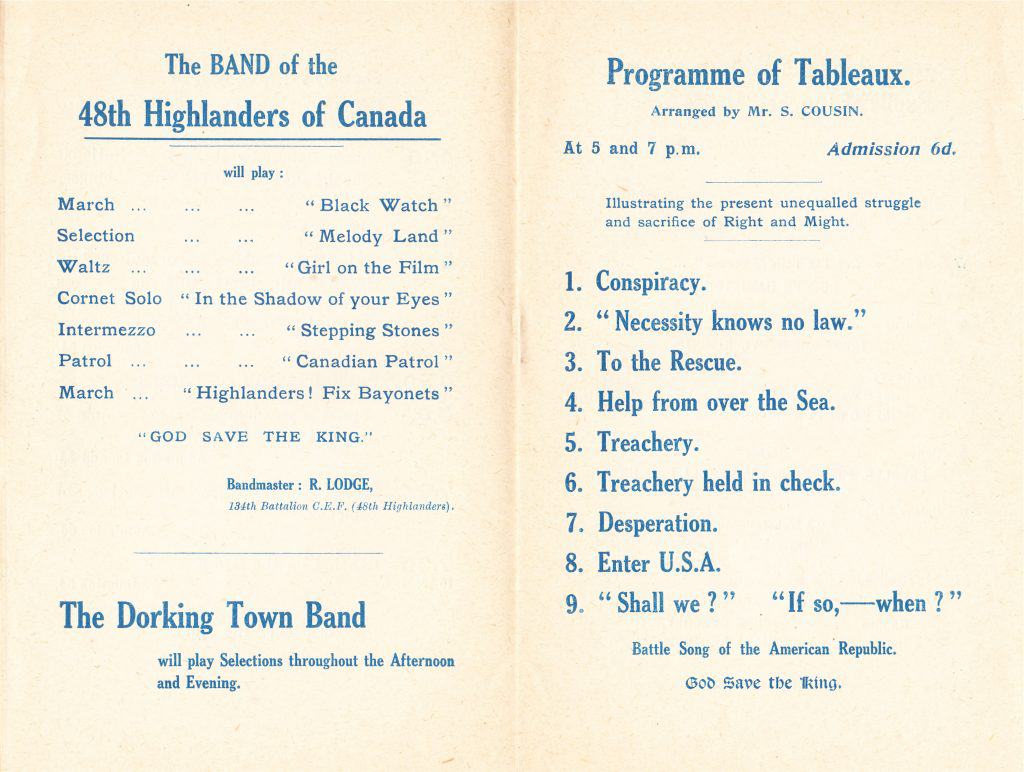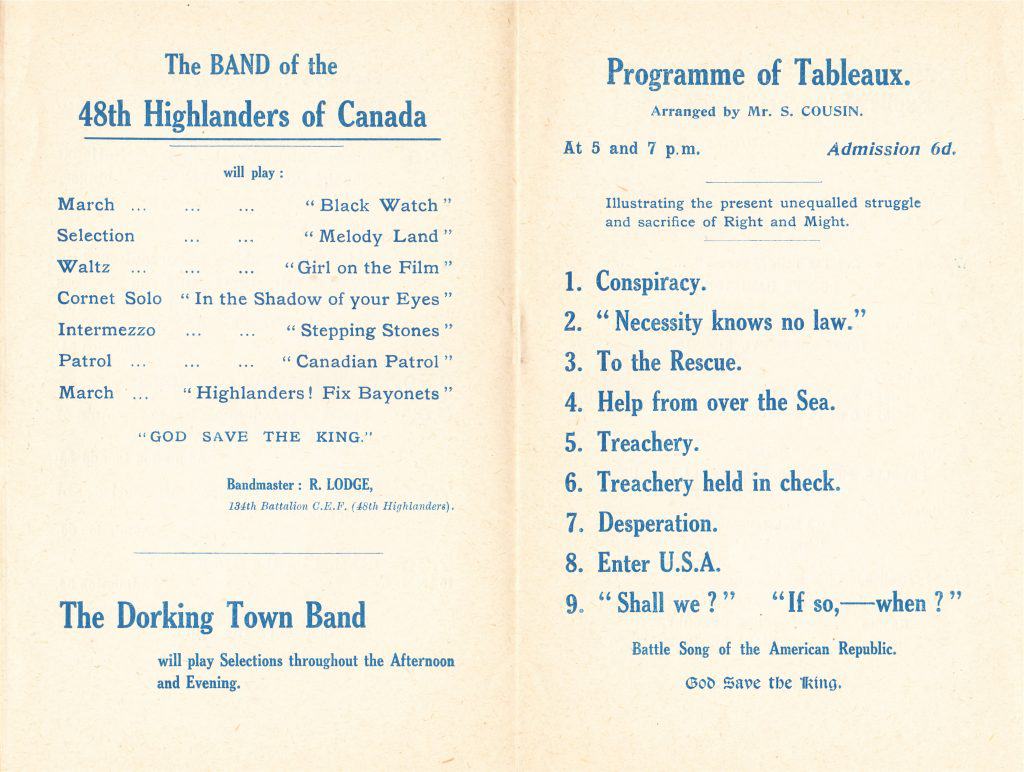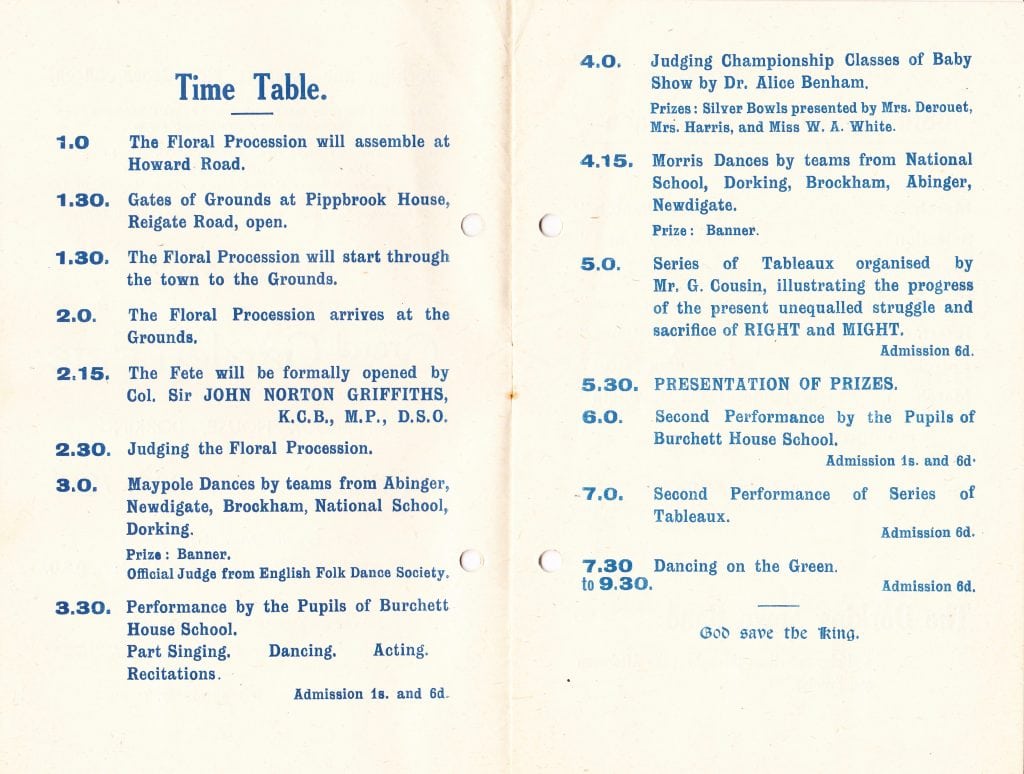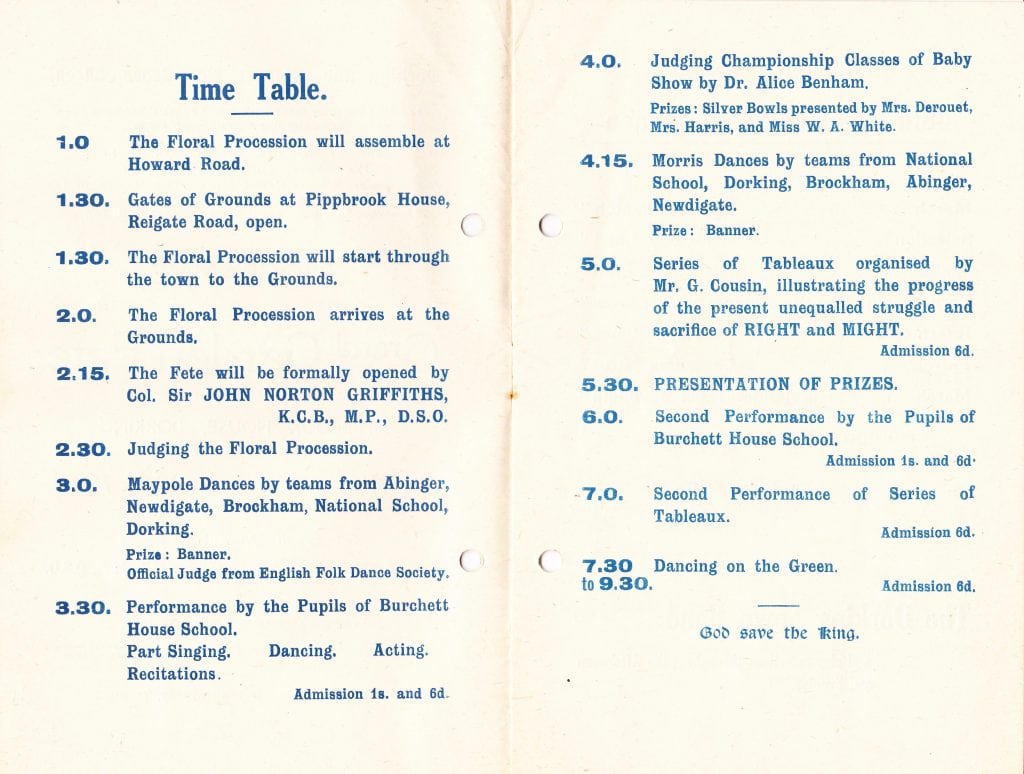 The highlight of the week was the Grand Garden Fete in the grounds of Pippbrook on Wednesday June 20th. The Garden Fete featured the band of the 48th Highlanders of Canada, the town band, a oral procession, maypole dances, performances by local schools, Morris dancing, potato shies (in the absence of coconuts), a shooting gallery, a 'melting pot' for unwanted jewellery, and a 'war cakes' stand.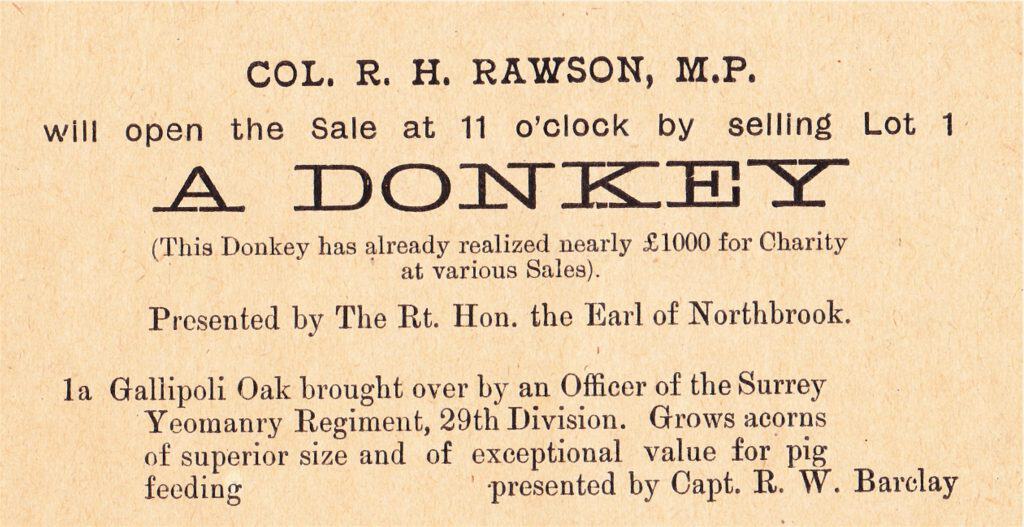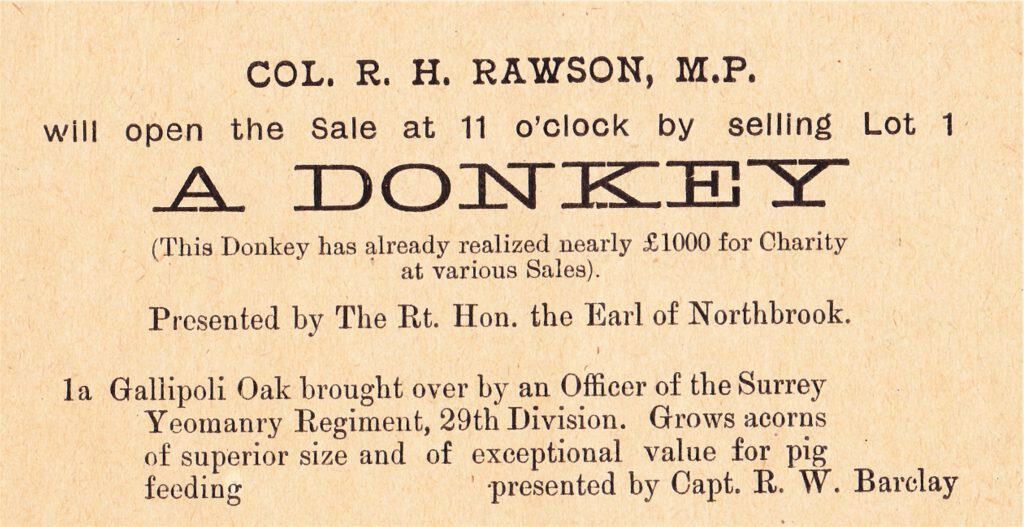 An agricultural gift sale the following day began with an auction of a Gallipoli Oak brought back by an officer in the Surrey Yeomanry. One of the principal entertainments was the auctioning of the '£1,000 donkey' presented by the Right Honourable the Lord Northbrook. It had been sold the previous year in Guildford to raise funds for the Relief of the Allies Fund, where it raised £188. By the time it reached Dorking it had been repeatedly auctioned to raise money for charitable causes. Before it was auctioned in Dorking Lady Lawrence of Burford Lodge was dared to ride the animal through the market in return for £1 for charitable funds. Lady Lawrence took the bet. Later two German flags sold at a 'Gutter Market' were burned in the High Street.
All the villages held their own events. The Dorking Advertiser commented on the fete at Newdigate Place that the village presented a merry scene. Its summing of that event could well have been applied to the whole week, or even the year: 'the long absence of pleasure had made everyone determined to enjoy themselves'.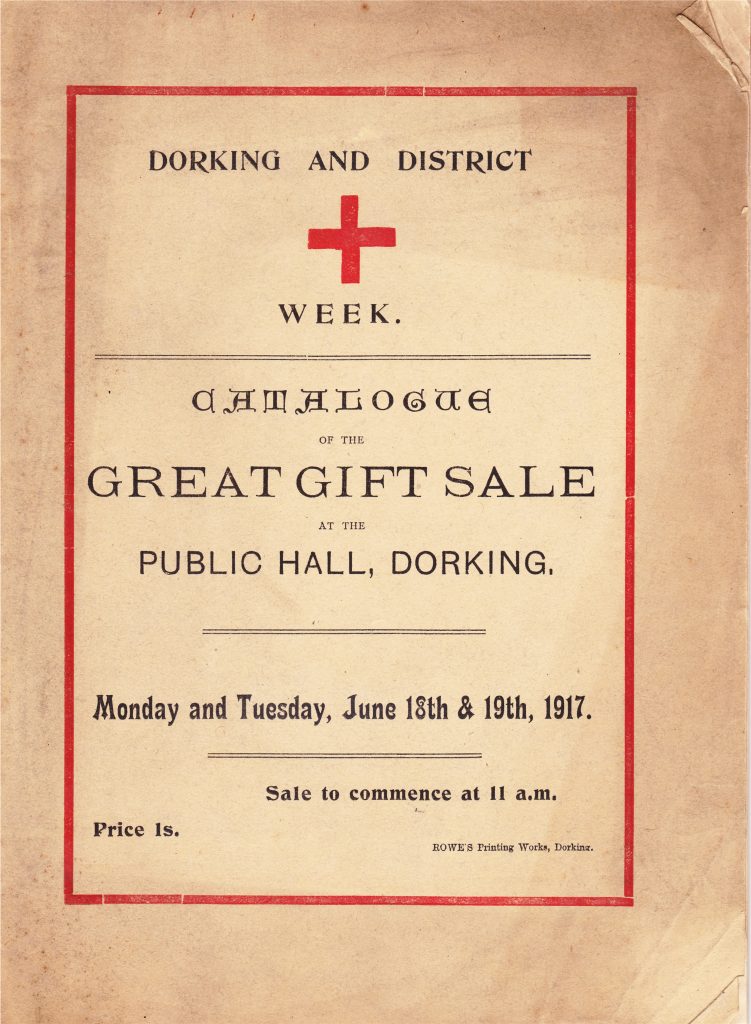 Catalogue for the 'Great Gift Sale' of 1,500 donated items which included silver, pictures, china, furniture, and wine. The auction raised £1,688.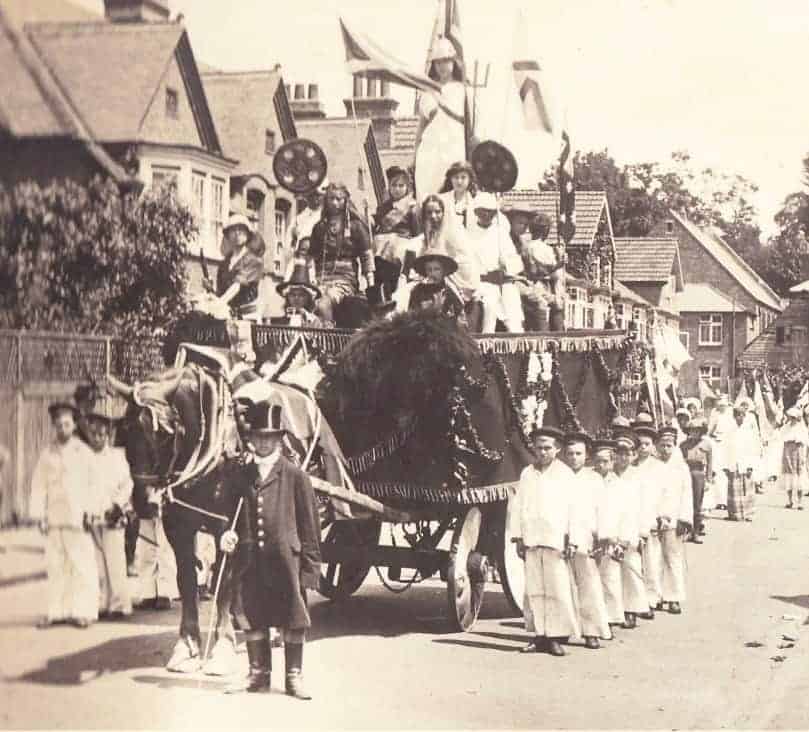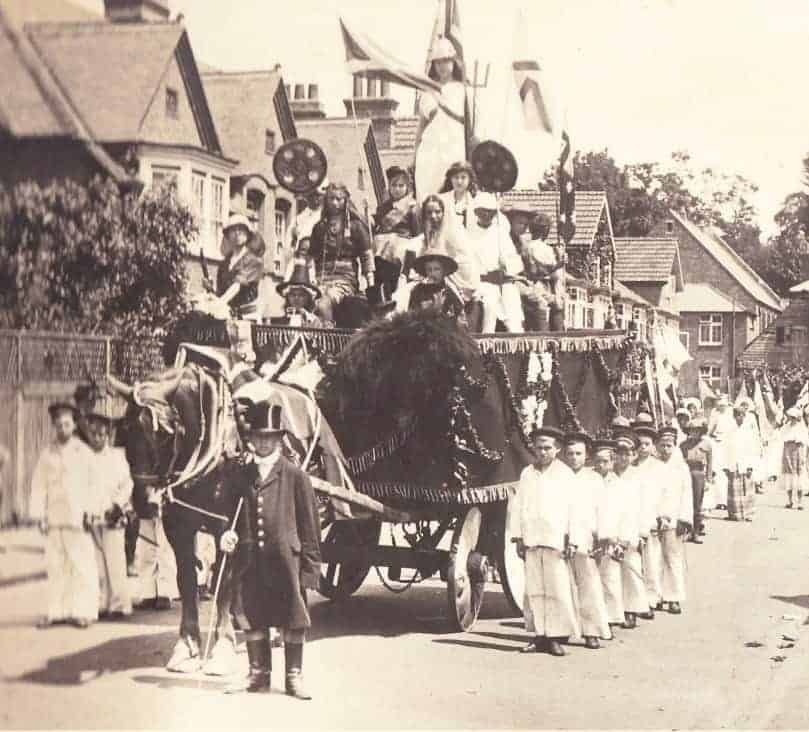 The children of Dorking British School dressed as Britannia and her colonies. After processing in a decorated car – for which the School won first prize – the children presented a series of tableaux at the Pippbrook Garden Fete. The tableaux illustrated 'the present unequalled struggle and sacrifice of right and might', depicting key scenes in the history of the conflict, from the threat to Serbia in 1914. It culminated in a rendition of the Battle Song of the Republic, as the United States had recently entered the war, followed by God Save the King.