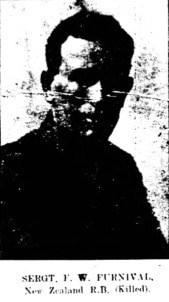 Thank you to Lenka Cathersides for the following research.
Frederick William Furnival was born on the 4th of August 1890 and was baptised on the 15th of November 1890 in Marshfield, Gloucestershire. He was the son of Frederic and Ann Agnes Furnival (nee Price).
According to the 1911 Australian Electoral Roles, Frederick William lived in Patea District in New Zealand.
At the time of his enlistment he lived in Manutahi, Wellington, New Zealand. He worked as a farm hand for Mr Wills. According to the 1916 Dorking and Leatherhead Advertiser he had a teaching appointment.
Frederick had a dark complexion, blue eyes and dark brown hair. He was over 5ft tall and weighed 131lb.
Frederick Furnival enlisted on the 28th of May 1915 in Trentham into the "D" Company of the 2nd Battalion, the Trentham Regiment for the period of war. He joined immediately he heard that the Germans had been bombing London. He was a Private with regimental numbers: 26/1048 and 24/1048.
Frederick embarked on the 9th of October 1915 from Wellington, New Zealand to Suez, Egypt on HMNZT 31 Tahiti. He disembarked on the 18th of November 1915 in Egypt.
On the 21st of November 1915 he joined the Expeditionary Force in Egypt.
On the 17th of January 1916 Frederick proceeded to Ismalia in Egypt.
On the 6th of November 1916 Pte Furnival embarked from Alexandria, Egypt to France.
Pte Furnival became Lance Corporal of the "D" Company, of the 2/3rd Battalion, New Zealand Rifle Brigade on the 22nd of November 1916.
From the 1st of September 1917 he was on leave in the UK. He re-joined the unit on the 14th of September 1917.
Lance Corporal Furnival was promoted to Corporal on the 2nd of July 1917 and to Sergeant on the 21st of October 1917.
Frederick Furnival was killed in an action in the field on the 20th of May 1918 in France. He was hit on the head by a brick thrown up by the explosion of a huge enemy shell, and died within few minutes.


He was buried at the Hebuterne Military Cemetery, France. His cemetery reference number is: III.C.2.
He received the British War and Victory medals and the 1914-15 Star.
A Comrade wrote: "There is no need of my telling you how much we all thought of Fred, and how we shall miss his cheery presence. There is not one of us who is not the better for having known him, and proud to remember him as his friend." The Chaplain said: "His absolute to duty cost him his life. He knew the shells would be coming thick and fast in a few minutes, and it was his anxiety to see that all his men got safely in that cost him his life…. You can be proud of him. He was a clean, straight, manly boy, a son of whom any parent could be proud, and there was genuine sorrow among the headquarters men when they knew he had gone. I buried him next morning in a military cemetery in Hebuterne. He sleeps his last long sleep among the apple trees in an orchard, and all around him lie others of England's sons who have given their lives during the course of his war. I know what his officers thought of him; he was one of the oldest and most trusted of the N.C.O.'s, and his men had absolute faith in him. As a soldier he is a great loss to us. But our sense of loss cannot be compared to yours and those of your home." (15 July 1918 Dorking and Leatherhead Advertiser)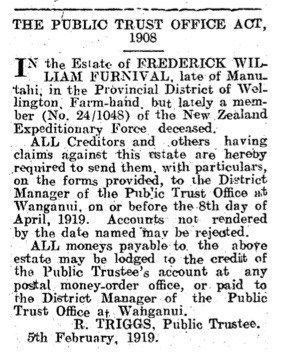 Frederick's brothers  Leonard Thomas and Harold Edgar were also killed in the First World War.
For more information on the Furnival family, see Harold Furnival's page
Born                            Marshfield, Gloucestershire
Son of                          Frederick and Agnes Furnival of 64 Falkland Road, Dorking
Regiment                     "D" Company, 2nd Battalion, 3rd New Zealand Rifle Brigade
Number                       24/1048
Date of Death              20th May 1918
Place of Death             France
Cause of Death           Killed in Action
Age                              27
Cemetery                     Hebuterne Military Cemetery, Somme, France