Accreditation Update
Today we heard back from the Arts Council to say that they had received our eligibility submission – and we would hear from them within six weeks to let us know if our application was successful, and we can then start working towards Accreditation.
The Arts Council and the Collections Trust have so many helpful documents, and we also have our own Accreditation Advisor from The Museum Development Team, but the process is still very daunting. We have a lot of work to do making sure that our policies are fully up to industry standard – and that more importantly we are following these policies!
Chalk Pit information Appeal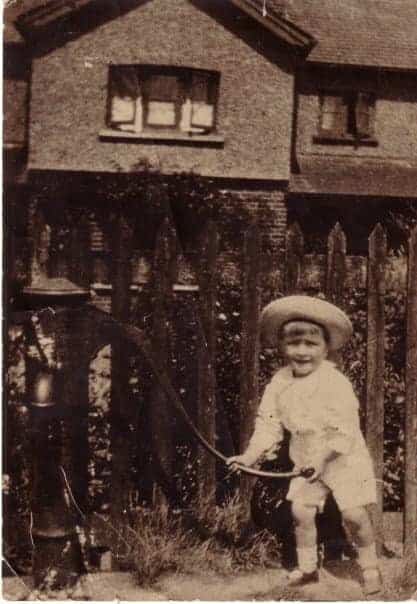 On an entirely unrelated subject – Peter Sturge, Deepdene Trail expert and Museum volunteer wonders if anyone can help him with a project he's working on.
Neighbours Sally Hulbert and Peter Sturge are researching the story of Dorking's chalkpits. This social history project focusses on the limeworks, those who worked there or lived in the houses on the ridge above the town. They have been aided by the Museum's ever-willing archive volunteers and, during the current restrictions, are making full use of on-line resources, including family history websites.
The research is already uncovering personal stories and photographs that will add to the collection in the Museum archive. Pictures from long un-opened family albums bring to light homes now demolished. An excellent example is this photograph of boy at the pump which once supplied Chalkpit Cottages. These old houses stood where Ashcombe Road is today, at the top of Chalkpit Lane. Rented from the Cubitt estate, often by workers from Denbies, they were refurbished just before WWI and demolished in the 1960s.
If you have information or photographs that might assist this project, Sally and Peter would be delighted to hear from you and can be contacted by email: chalkpit@yahoo.com