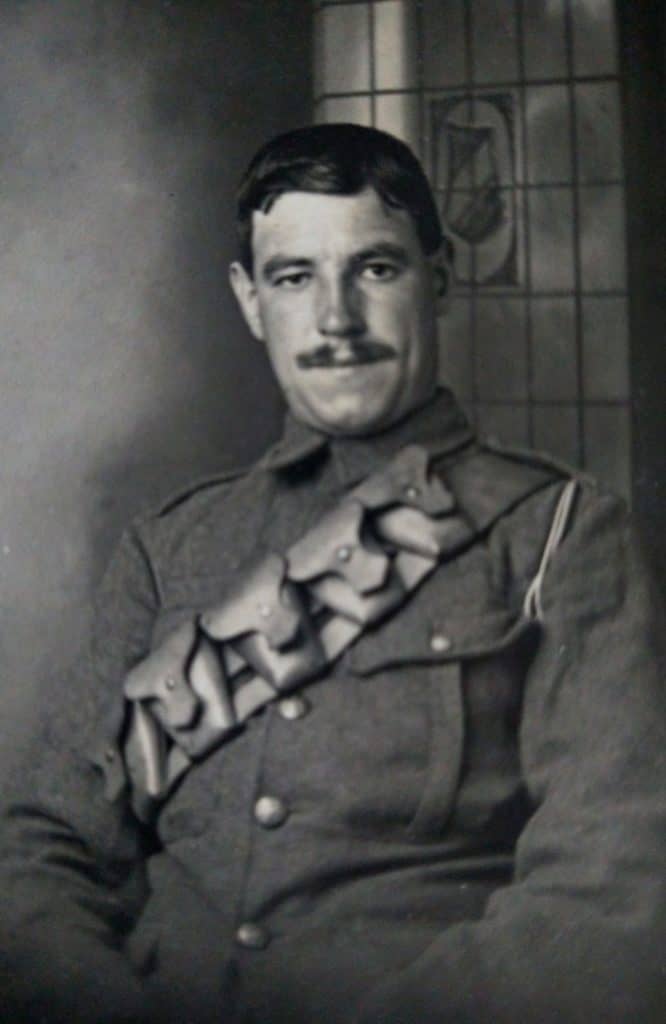 Thank you to Karen Wilson from Betchworth Village Archives for allowing us to publish her research. Thank you to Kathryn Cargill for the photograph of John. John Church was the brother-in-law of her great grandfather Alfred William Lake.
John James Church was born in Buriton, Hampshire in 1884 but by the age of six he was living at 12, Limeworks Cottages in Betchworth. His father, also John, was a labourer and was most likely working in the Lime- works. John James was a choir boy at St. Michael's church and by the age of sixteen was working as a bricklayer's labourer and still living at Limeworks Cottages. He would have known Percy Hawkins who lived at number 8; Percy later joined the Royal Field Artillery in May 1916.
In July 1902, at the age of 17, John Church enlisted at Guildford in the Royal Field Artillery and signed on for three years and then for another nine years in the Reserves.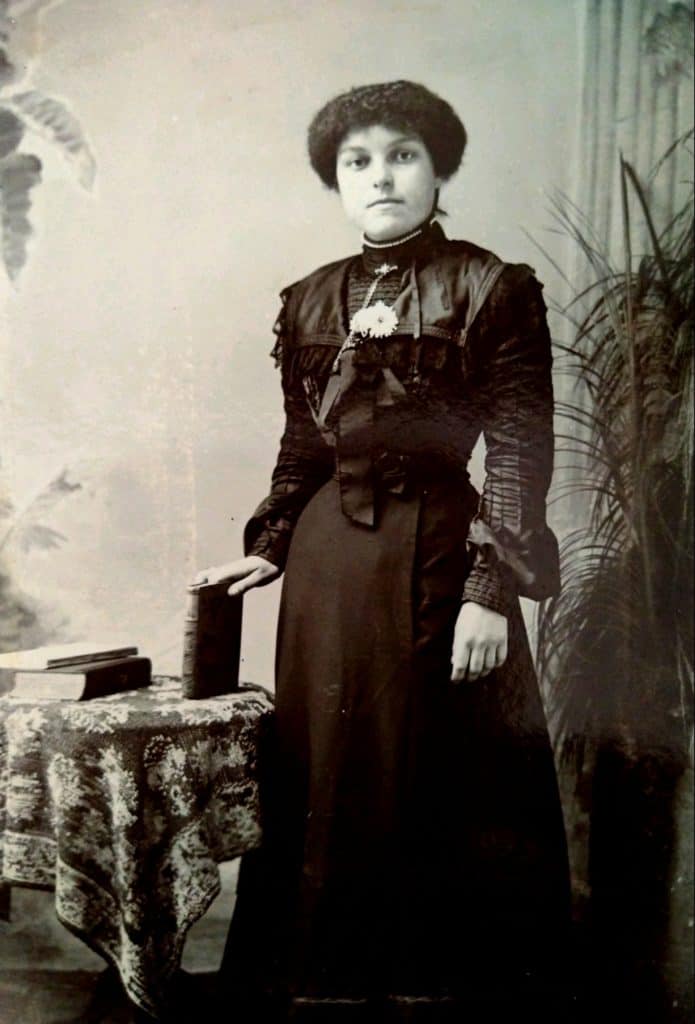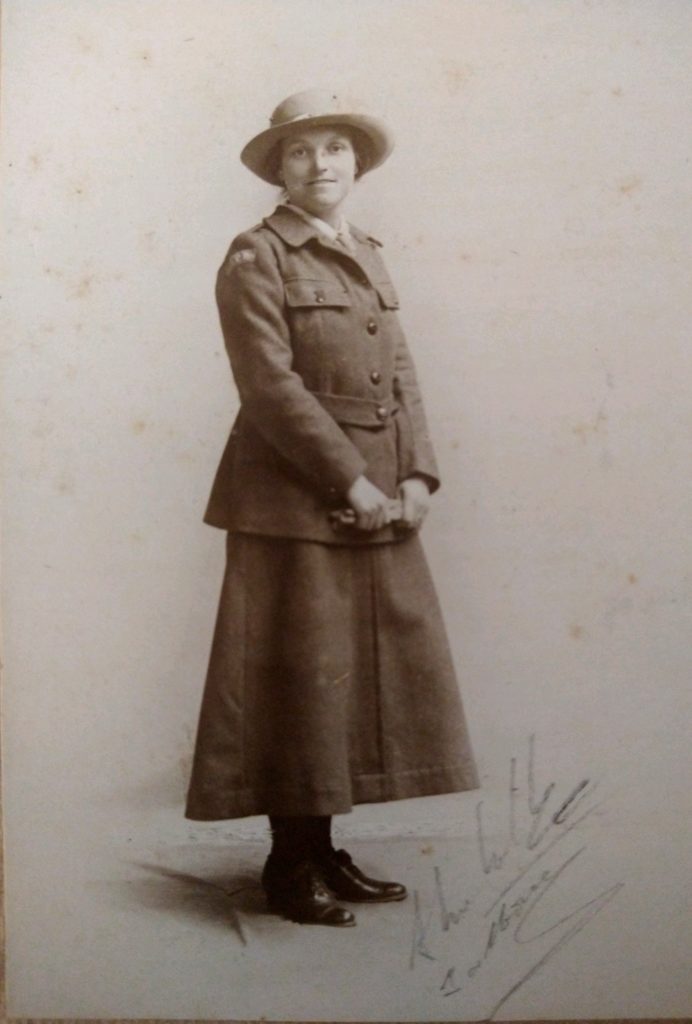 By 1907 John was living at 12, New Cottages and on the 31st of August 1907 at the age of 23, he married Alice Emily Lake at St. Martin's in Dorking. Alice was two years older than John and her father, Alfred Lake, was the owner of the Dorking Steam Laundry during the late 1890's and into the early 1900's.
John and Alice's first daughter, Constance Ann Maud, was born on September 2nd 1908 and was baptised at St. Michael's on November 15th 1908. By 1911 the Church family were living at 23, Ansell Road in Dorking and John James was a carter at a timberworks. In July 1914 John Church re-joined the Reserves for a further four years and was called up immediately on the outbreak of war in August. He was sent to France in September 1914 and survived three years' service at the Front. His second daughter, Marjorie Florence, was born on October 2nd 1914 and the last time he ever saw his family was when he was home on leave in February 1917.
On October 24th 1917, John James Church was killed in action near Ypres; he was 33 years old.
His Commanding Officer Captain R.T. Baxter wrote the following to Alice: 'I am sorry to inform you that your husband has been killed in action; I can assure you that he was killed instantaneously and thus suffered no pain. The battery feels the loss of one of its oldest members greatly, and I myself, who had the pleasure of serving with him for nearly three years, feel deeply the loss of a really reliable man.' The chaplain, Rev. P. G. Holden, wrote: 'You will doubtless have heard from his C.O. of the death of your husband. I buried him with three comrades who were killed at the same time in a cemetery some way back from the Battery'.
John Church is buried in the Duhallow cemetery near Ypres and his wife Alice requested that 'Peace Perfect Peace' be inscribed on his headstone.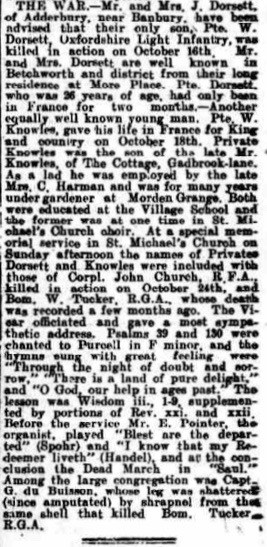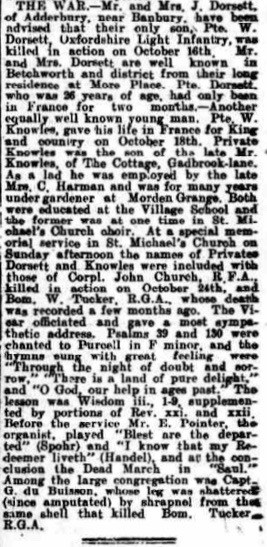 The Dorking and Leatherhead Advertiser
1st December 1917
Mr. and Mrs. J. Dorsett of Adderbury, near Banbury, have been advised that their only son, Pte. W. Dorsett, Oxfordshire Light Infantry, was killed in action on October 16th. Mr. and Mrs. Dorsett are well known in Betchworth and district from their long residence at More Place. Pte. Dorsett who was 26 years of years, had only been in France for two months. Another equally well known young man, Pte. W. Knowles, gave his life in France for King and country on October 18th. Private Knowles was the son of the late Mr. Knowles of The Cottage, Gadbrook Lane. As a lad he was employed by the late Mrs. C. Harman and was for many years under gardener at Morden Grange. Both were educated at the Village School and the former was at one time in St. Michael's Church Choir. At a special memorial service in St. Michael's Church on Sunday afternoon the names of Privates Dorsett and Knowles were included with those of Corpl. John Church R. G. A., whose death was recorded a few months ago. The Vicar officiated and gave most sympathetic address. Psalms 39 and 130 were chanted to Purcell in F Minor, and the hymns sung with great feeling were "Through the night of doubt and sorrow." "There is a land of pure delight" and "O God, our help in ages past" The lesson was Wisdom iii, 1-9 supplemented by portions of Rev. xxi and xxii. Before the service Mr. E. Pointer, the organist, played "Blest are the departed" (Sophr) and "I know that my Redeemer liveth" (Handel), and at the conclusion the Dead March in "Saul". Among the large congregation was Capt. G. du Buisson whose leg was shattered (since amputated) by shrapnel from the same shell that killed Bom. Tucker R. G. A.
John Church was remembered, alongside William Dorsett, William Knowles and William Tucker, at a memorial service held at St. Michael's church on November 25th 1917.
| | | |
| --- | --- | --- |
| Born | | Buriton, Hants |
| Lived | | Betchworth, Surrey |
| | | |
| Son of | | John and Harriett Church of Betchworth |
| Husband of | | Alice Emily Church of 59 Whitley Road, Eastbourne |
| | | |
| Regiment | | 47th Battery. 41st Battalion. Royal Field Artillery |
| Number | | 25314 |
| | | |
| Date of Death | | 24th October 1917 |
| Place of Death | | Ypres, Belgium |
| Cause of Death | | Killed in action |
| | | |
| Age | | 33 |
| | | |
| Cemetery | | Duhallow Cemetery, Ypres, Belgium |