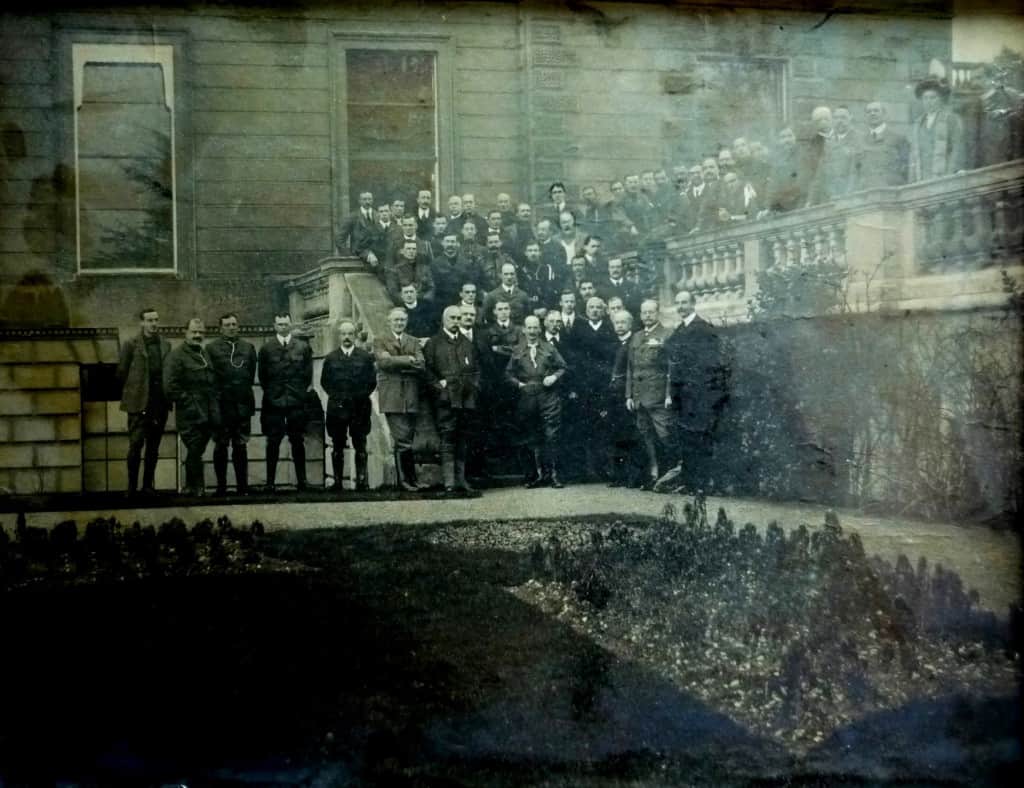 The photograph was donated to the Museum by Simon Jervis – but we were never sure what the occasion was, however an article in the Dorking Advertiser from the 3rd February 1912 has solved the mystery.
Meeting at Denbies
At the kind invitation of the Lord-Lieutenant, a meeting of Presidents, Scout Commissioners, Scout Masters and Secretaries was held at Denbies on Wednesday. The following gentlemen, amongst others, were present:- Sir Jeremiah Colman, Bart. General Sir A. Gaselee, Mr. Braithwaite, D. L. Colonels Bodle-Grove, Forestier-Walker, Fletcher, Worlledge, Mr Helme, Sir Edmond Elles, Mr Browell (County Secretary) and many Scoutmasters, numbering 60 in all. The proceedings began at 2.45, and the gentlemen were entertained to tea at the conclusion of the meeting by Colonel and Mrs. Cubitt. The proceedings commenced with a short address of welcome from the Lord Lieutenant – who is President of the Scout Movement in Surrey – to those attending the meeting; he then called upon the County Commissioner to state the business. Sir Edmond Elles said he was sure the meeting would desire him to offer their best thanks to the Lord Lieutenant for kindly asking them to meet at Denbies and for extending his hospitality to them. The chief business before the meeting was to discuss a county rally in the summer, and the Lord Lieutenant had very kindly invited the Scouts to rally at Denbies, and was also good enough to extend hospitality to them by providing then with refreshments for lunch and tea.
Date of Rally – Whit Monday, 27th May May, probable numbers to be notified by 1st April; corrected numbers 1st May.
Programme – Rally to be held at noon with interval for lunch and sports and Scout exhibitions at 2.30pm.
Executive Committee – A committee was formed consisting of one member from each Association, and certain other gentlemen appointed by the meeting, It was also decided to appoint a local sub-committee, under Lord Forestier-Walker to deal with local arrangements.
Week-End Camp – A week-end camp to be established on ground kindly given by the Lord Lieutenant to be open from noon on Friday 24th til noon on Tuesday 28th May.
Prize Fund – It was estimated that £50 would be required for a prize fund and expenses connected with the sports; the Lord Lieutenant promised a subscription of £10.00 : Sir Jeremiah Coleman and Col. Grove also promised assistance to the fund.
The question of special classes for Scouts in technical subjects was also discussed: the County Commissioner intimated that conferences had been with the Surrey Education Authority, and a scheme had been drawn up for establishing classes in technical subjects where the demand arose. Mr. Shakespeare (Surrey Education Department) – who was present – answered numerous inquiries from Scoutmasters attending.