Cycling clubs grew up to provide companionship for touring. But soon the competitive possibilities of cycle racing provided another aspect to club life. Dorking Cycling Club members took part in early track races and launched the town's annual 'athletic sports' day with the cricket club and voluntary fire brigade in the 1880s.
The 'athletic sports' became the highlight of the town's sporting year. Held at Pixham Lane cricket ground on the August Bank Holiday it became a major racing meet for the south of England. Cycle races included one and three mile events for bicycles and tricycles of different types and bookies attempted to evade detection.
Before the First World War the Old Paulonians' Cycling Club was Dorking's most competitive.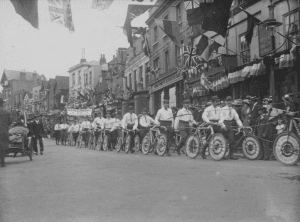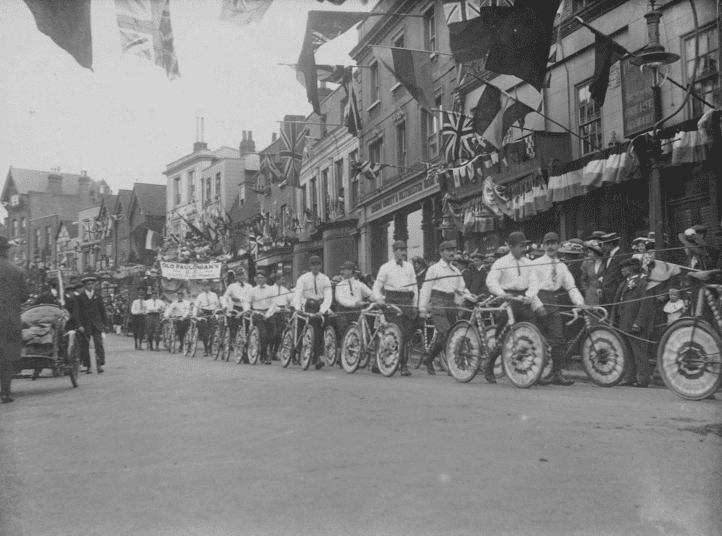 The Old Paulonians' Cycling Club marching through Dorking High Street with bicycles decorated in red, white and blue for King George V's coronation procession in 1911. The OPCC was formed in 1900 by former pupils of St Paul's School. It survived the First World War and was a competitive club until the outbreak of war again in 1939.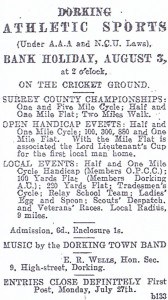 Newspaper advertisement for the Dorking Athletic sports meeting on August 3rd 1914. Competitors came from all over the south east. It was the last great local social and sporting occasion before the First World War. The following day Britain declared war on Germany.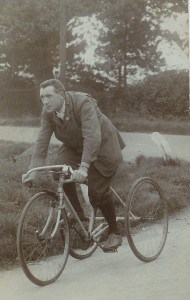 Old Paulonian track racer 'Lardy' Kirton, so called as his father owned a baker's shop.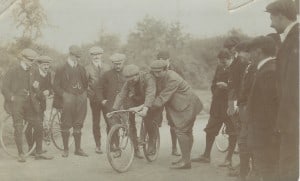 Old Paulonians at the start of a race.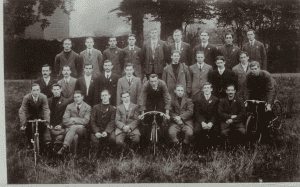 The Old Paulonians' Cycling club. Jack Kilham, at the front 4th from left, raced as both an amateur and a professional under different identities, using his own name and the name Charlie Fenton.
With no tradition of road cycle racing (like the Tour de France or Giro d'Italia) British competitive cycling became confined to a small number of velodromes and its popularity dwindled after the wars.
Britain's emergence as a world-beating team on track and on the road is largely to the credit of local man, Peter King. Chief executive of British Cycling from 1997 to 2008, his time in office, and the strategies that he implemented, saw the British team rise to number one in the world, bringing on Sir Chirs Hoy, Sir Bradley Wiggins, Mark Cavendish, Victoria Pendleton and Laura Trott.
Dorking Cycling Club and other local clubs continue to be at the forefront of racing innovation with such events as the Denbies Duals which attracts the best hill climbers to the area, pitting two climbers head-to-head to find the King-of-the-Mountains in the Denbies vineyards.
Previous Page : A Social Revolution                                                                                                                                                                                        Next Page : The Battle for the Road