In 2018, Dorking celebrated the life and activities of a true gentleman, heir to a whisky fortune and one of the most respected (and fondly remembered) characters in motor racing history. Rob Walker chose Dorking as the base for his small private racing team during the 1950s and 60s, the golden age of motor racing, and it was here that his cars were developed, built and tested.
Rob Walker was the first, and almost certainly the last, private team owner to win a Formula One World Championship Grand Prix. And he did it not once, but nine times between 1958 and 1968, a period regarded by many as the sport's golden years. Not just F1, his team was also successful in many other levels of motorsport, including F2, F3, sports car racing and hill climbs.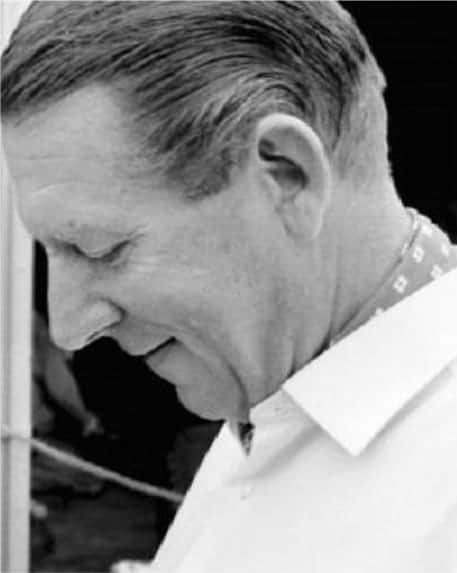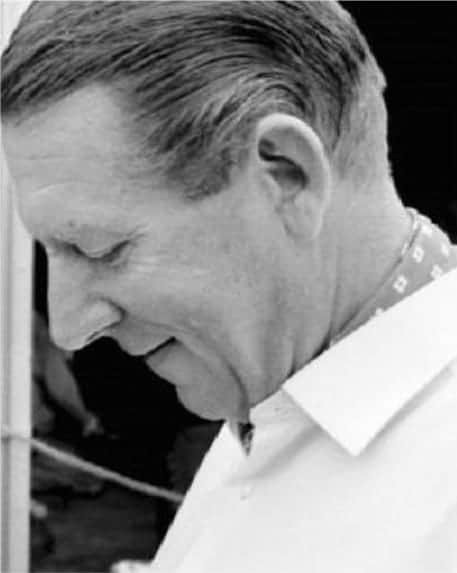 Robert Ramsey Campbell Walker was born on 14th August 1917, into a privileged life as a member of the Johnnie Walker whisky family. His lifelong fascination with motor racing started at the tender age of seven, when, whilst on holiday in France, he saw his first motor race at Boulogne-sur-Mer. On his eleventh birthday he was given his first car, a 1924 bull-nosed Morris Coupe, and by his 21st birthday he had owned 21 cars.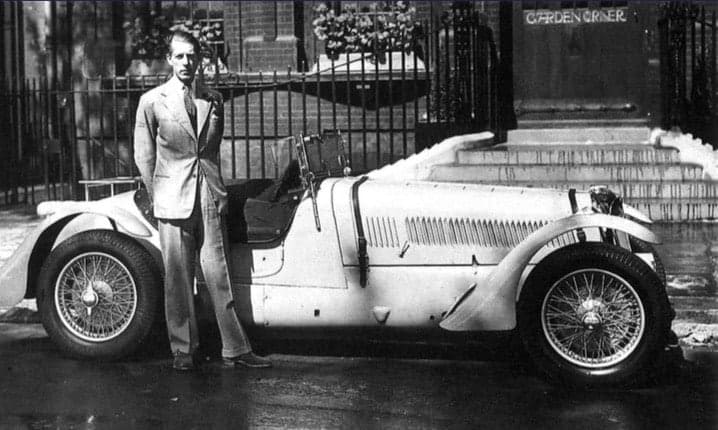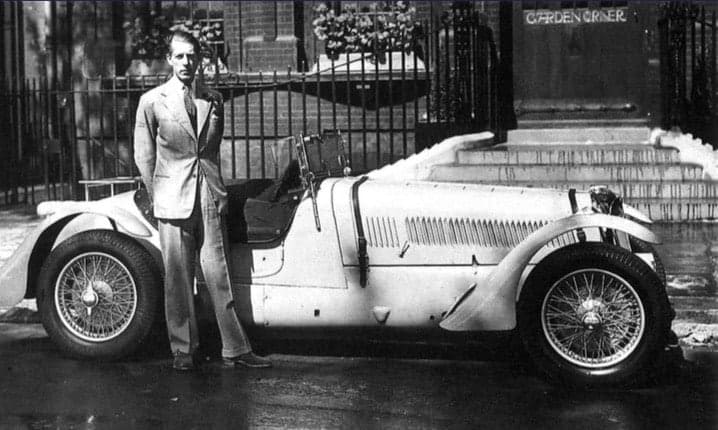 In 1938 he met not only his future wife, Elizabeth (Betty) Duncan, but also the second love of his life: a Delahaye Type 35 sports car that he saw in a Park Lane showroom for £400 and soon acquired by 'hire purchase'. Rob made his competition debut at the Lewes Speed Trials and was soon making regular journeys to Surrey to race the Delahaye at the Brooklands race track – at one point, the car was declared 'The Fastest Car in Britain'. It was the era of the 'gentlemen racers' and Rob enjoyed the whole experience immensely.
Le Mans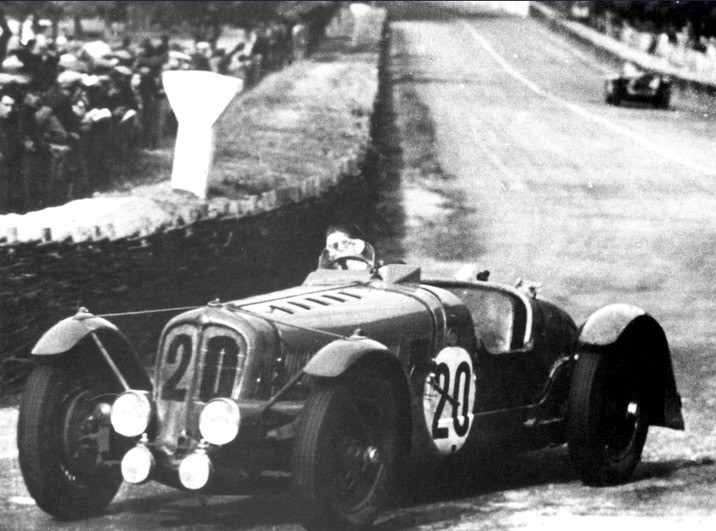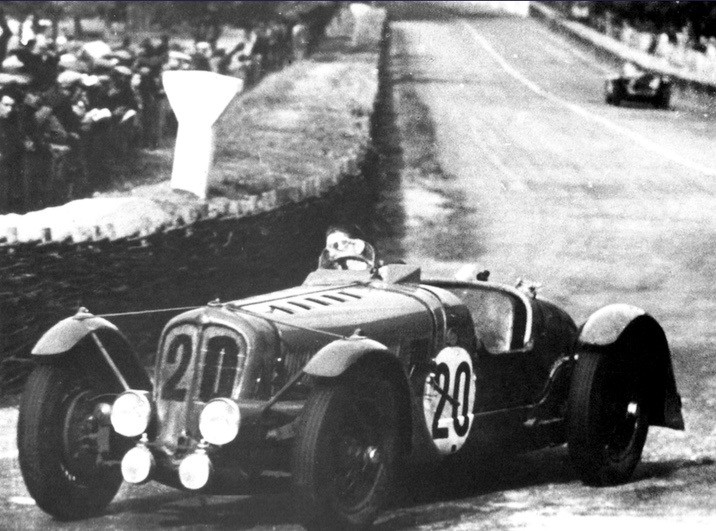 In 1939 Rob fulfilled a childhood dream, entering his Delahaye in the world-famous 24-hour sports car race at Le Mans with Ian Connell as co-driver. For his evening driving stint Rob chose to wear a dark blue pinstripe suit, before changing the next morning into an informal Prince of Wales' check. When Connell dropped out, Rob took over and drove a twelve-hour stint, during which his pit crew called him in for a glass of champagne to give him energy. Rob finally crossed the line in eighth place overall and third in his class, having run for 24 hours without a change of tyres at an average speed of 78 mph.
Walker goes to War
When war was declared in 1939, Rob joined the Royal Navy and trained to be a Fleet Air Arm Pilot, in spite of an earlier lifetime ban after a mischievous prank at Cambridge University, overlooked in view of the shortage of experienced pilots.
In 1940 Rob and Betty were married and Rob promised his new wife that he would end his racing career. After active service in the Mediterranean and Far East, he arrived back in London in May 1945, eager to indulge his passion for motor racing. Honouring his promise, he confined his driving activities to the occasional hill climb or sprint, but became a 'private entrant', managing his own racing team.
Dorking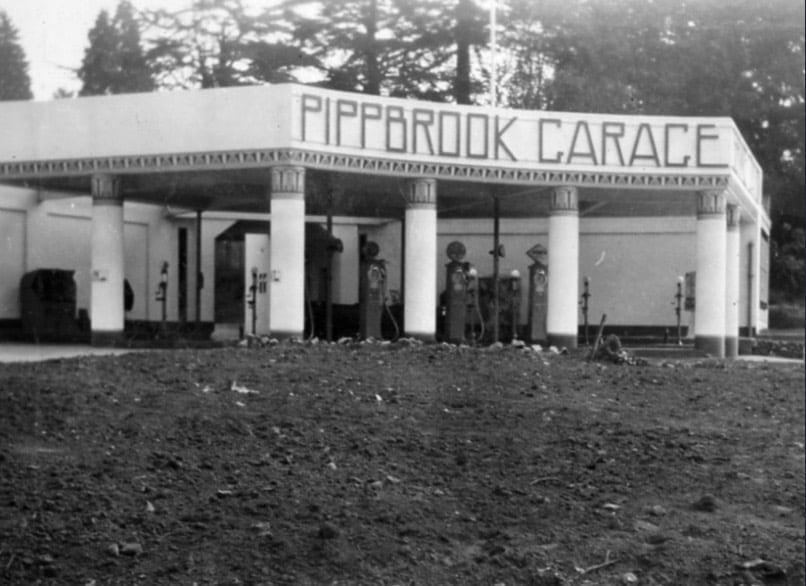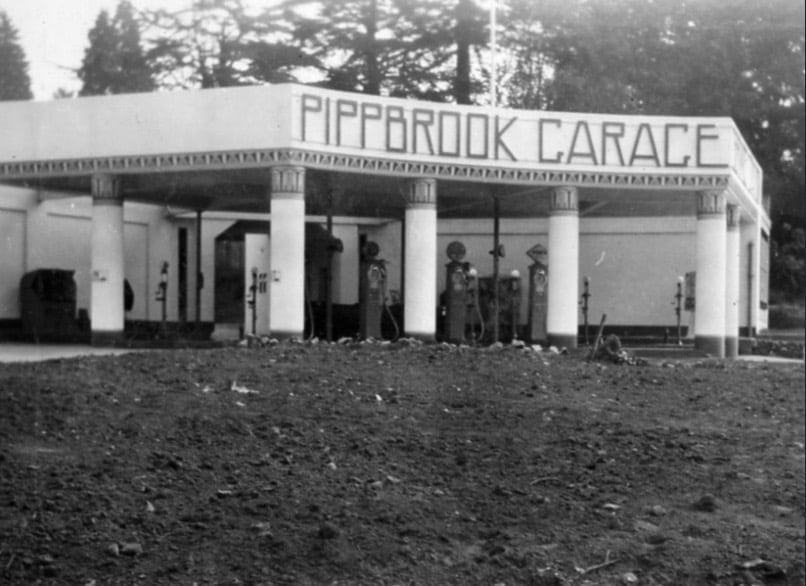 Since the world's first purpose-built racing circuit, Brooklands, opened in Weybridge in 1906, Surrey was the focus for Britain's pioneering racing car industry. So, Dorking provided the perfect location to attract the skilled mechanics and drivers Rob required. In 1947, he bought Pippbrook Garage and workshops in nearby London Road which became the base for the fledgling Rob Walker Racing Team.
In recognition of his Scottish roots, Rob painted his cars dark blue with a white roundel and stripe across the nose to echo the Scottish flag. In 1949, he entered his faithful Delahaye in the first post-war Le Mans 24-Hour race with Guy Jason-Henry and Tony Rolt as co-drivers. Unfortunately, the engine failed while the pair were in fifth place and their race was over. A third place at the French Grand Prix followed, after which Rob decided to sell the Delahaye.
The 1950s and a golden decade
In 1950 Rob bought a couple of pre-war Delage single-seater racing cars. Working on them at Pippbrook, the cars were so loud that when the mechanics fired up the engine they would take bets on how soon the neighbours would call to complain. Nevertheless, the Delage gave the team its first sample of single-seater racing that year when Tony Rolt drove in the International Trophy at Silverstone.
A change to Connaught cars brought them their first international victory in the Coronation Trophy at Crystal Palace in 1953. After being forced to retire in the British Grand Prix for three consecutive years, they introduced Formula Two Coopers in 1956. The team embarked on its first full international competition season the following year, achieving its first Formula One finish when Jack Brabham finished seventh at the Pescara Grand Prix in Italy.
In 1958, Stirling Moss agreed to drive for Walker with French Champion Maurice Trintignant as the number two driver. The deals were sealed with nothing more than a handshake, in what proved to be the start of the team's golden decade.
The 1958 Argentine Grand Prix was the opening race of the Formula One season and Moss drove Walker's Cooper T43. Compared to the more powerful cars on the grid, the underpowered Cooper was considered a bit of a joke by the other teams. But the Walker team devised a cunning but risky strategy to complete the race without stopping for new tyres. With tyres beginning to disintegrate, Moss nursed his car to take the chequered flag: the first post war win for a rear-engine racing car; the first win by a Cooper chassis; the first win for a privateer team; and the Rob Walker Team's first Grand Prix win. Later that year, Trintignant took the wheel for the Monaco Grand Prix, winning the season's most prestigious race and proving that the Argentinian win was not a flash in the pan.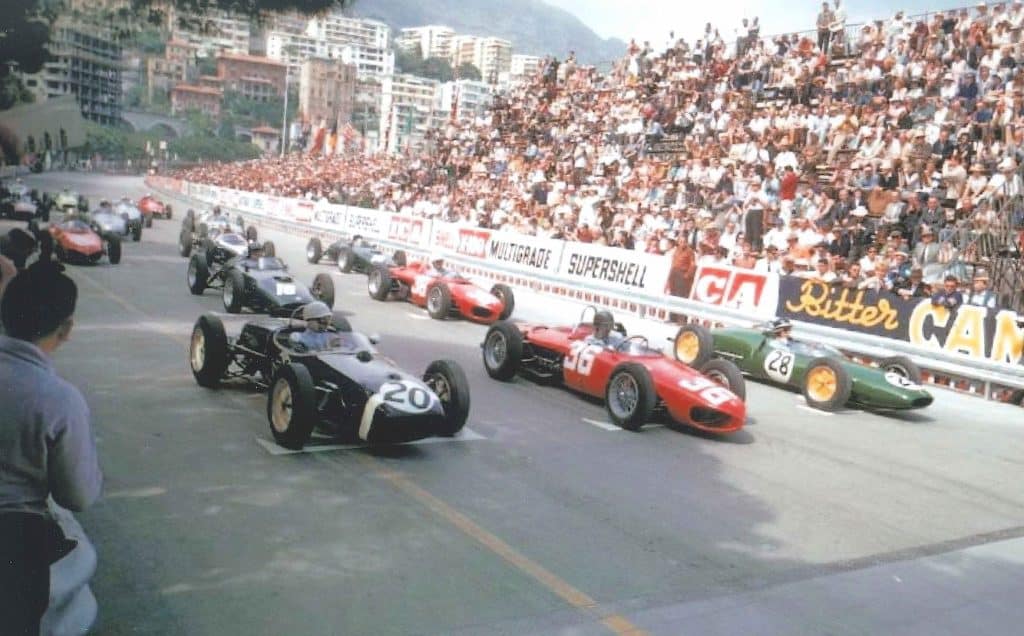 Driving with Walker, Moss was third in the World Championship in 1959, 1960 and 1961. He won in Portugal and Italy in 1959 but lost out on a chance to be World Champion when forced to retire early in the final race in the US. He won in Monaco and the US in 1960 but his season was marred by a long absence after injury in the Belgian Grand Prix. He was third again in 1961, in spite of momentous victories in an outdated Lotus 18 in hot conditions in Monaco (with side-panels removed to aid air cooling) and treacherously wet conditions in Germany. The Pippbrook team also accomplished a unique motorsport first in 1961 when Moss in Walker's Ferguson P99 Climax won the Oulton Park Gold Cup: the first four-wheel drive car ever to win a Formula One race.
Back in Dorking, as Walker's business grew, the Pippbrook Garage began to offer vehicle servicing and MOT testing to the public. He later opened a Ford car dealership and showroom. Keen to keep in touch with his customers, the garage sent out regular issues of a monthly newsletter, 'The Pippbrook Post', ran social events, and even had a ladies' netball team, The Pippbrook Tigers.
Hard times
After several seasons of real success, some momentum was lost and, in 1962, Rob even considered giving up the sport, following a serious accident at Goodwood for Stirling Moss and the deaths of two young rising stars while practising. Drivers Jo Bonnier and Jo Siffert had limited success in the 1963-67 seasons, although there was a remarkable win by Siffert in the 1965 non-championship Mediterranean Grand Prix.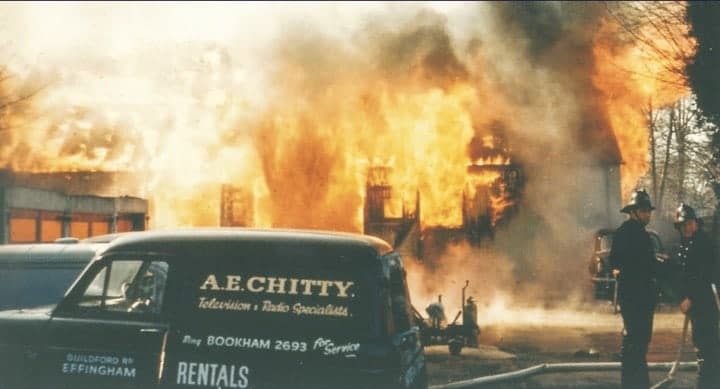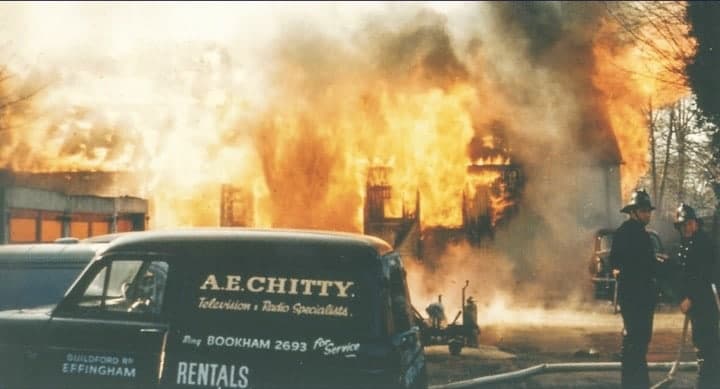 Shortly into the 1968 season, the team suffered a devastating fire at the London Road workshops, gutting the racing shop, destroying the brand-new Lotus 49 that was being repaired, another car, two new engines and 30 years' worth of irreplaceable racing memorabilia. With his cars destroyed, Rob faced the closure of his racing team, but managed to rebuild.
A new Lotus 49B R7 was delivered for the British Grand Prix at Brands Hatch in July. In a closely contested race, Siffert crossed the line four seconds in front, his first Grand prix win. This was the ninth and last victory by the Rob Walker Racing Team and almost certainly the last win by a truly private entrant.
Final days of the team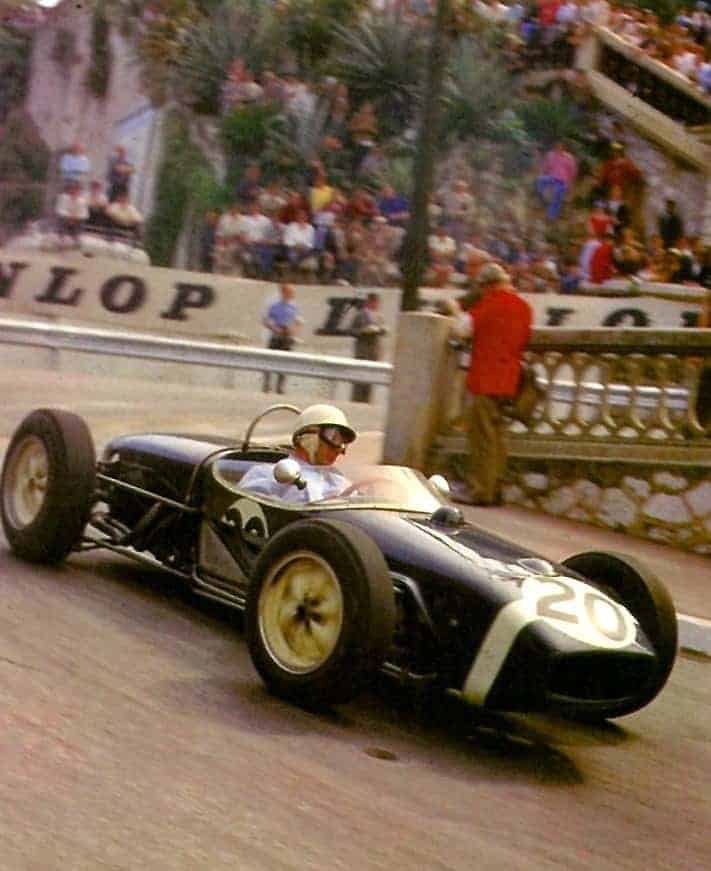 In January 1970, Rob announced his intention to sell Pippbrook Garage, although continuing to base his team at his workshops in Beare Green. With spiralling running costs, Rob negotiated a major sponsorship deal with Brooke Bond Oxo, enabling him to hire ex-world champion Graham Hill. After only modest success, Hill left at the end of the season and Rob was left with the difficult decision of whether or not to continue to run his team from Dorking.
In 1971, he merged his team with that of John Surtees and, although no longer based in Dorking, kept the Pippbrook workshops open to service his classic cars. The Rob Walker Racing Team made a brief reappearance in 1975 but Rob's involvement in motor racing was coming to an end after more than 30 years in the sport. After retirement, he became a motorsport journalist for the American Road & Track magazine and maintained his interest in and love of motorsport until his death in 2002 from pneumonia at the age of 84.
Rob Walker was a kind and generous man who became a motor racing institution. He was held in great affection and respected by everyone in the sport, and by all who met him. The occupation on his passport simply read 'gentleman' and above all that is what he was.
Many of Rob's racing cars have been preserved in excellent condition in museums or private collections around the world, some still raced at historic meetings. Now worth many hundreds of thousands of pounds, they are treasured by their owners and provide an enduring reminder of Rob Walker's part in motor racing history.
More images from the exhibition can be seen here.
Read more about Rob Walker from our 2018 exhibition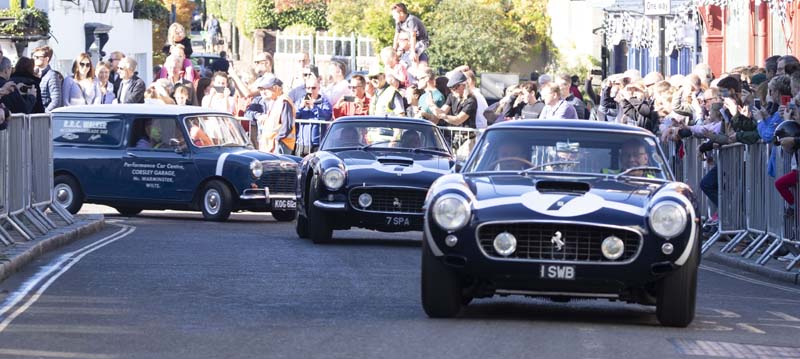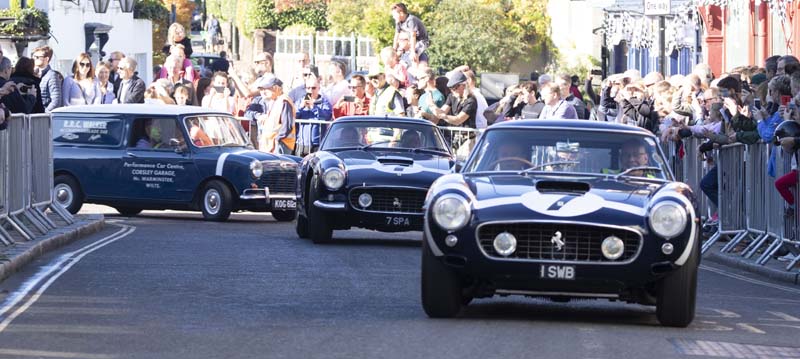 Here are images from the day the fast cars came back to Dorking.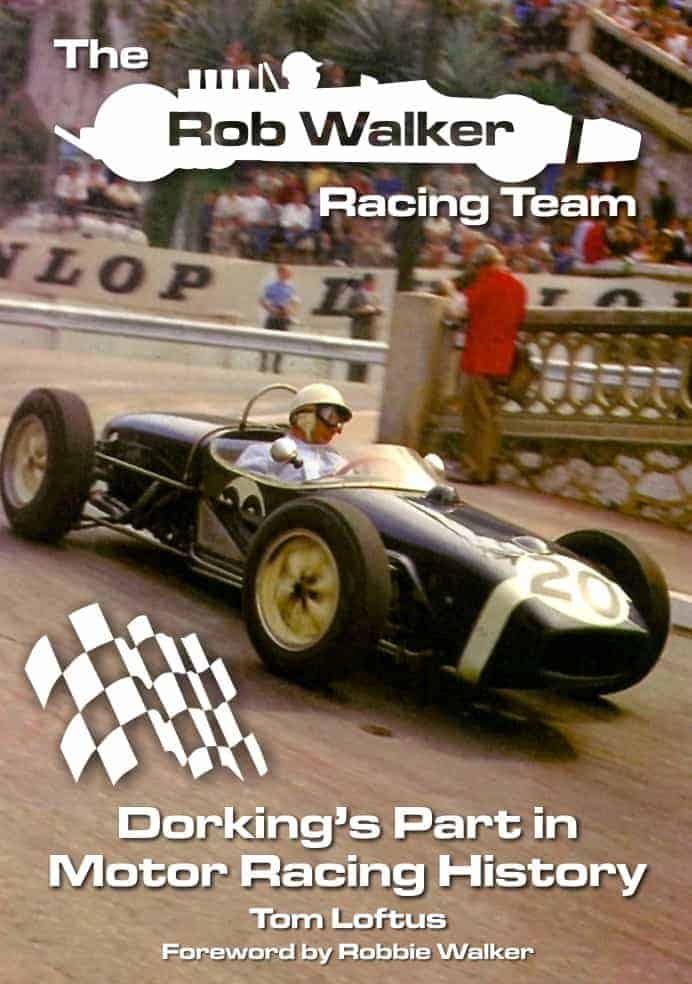 Dorking's Part in Motor Racing History – £7.00
New 72 page book by Tom Loftus tells the story of Rob Walker and his ground-breaking private Grand Prix winning team from a Dorking perspective – the small town where the cars where the cars were developed, built and tested: the successes, the challenges, the people.
Many previously unseen photographs and with a foreword by Rob's son, Robbie Walker.
Buy the book of the exhibition here.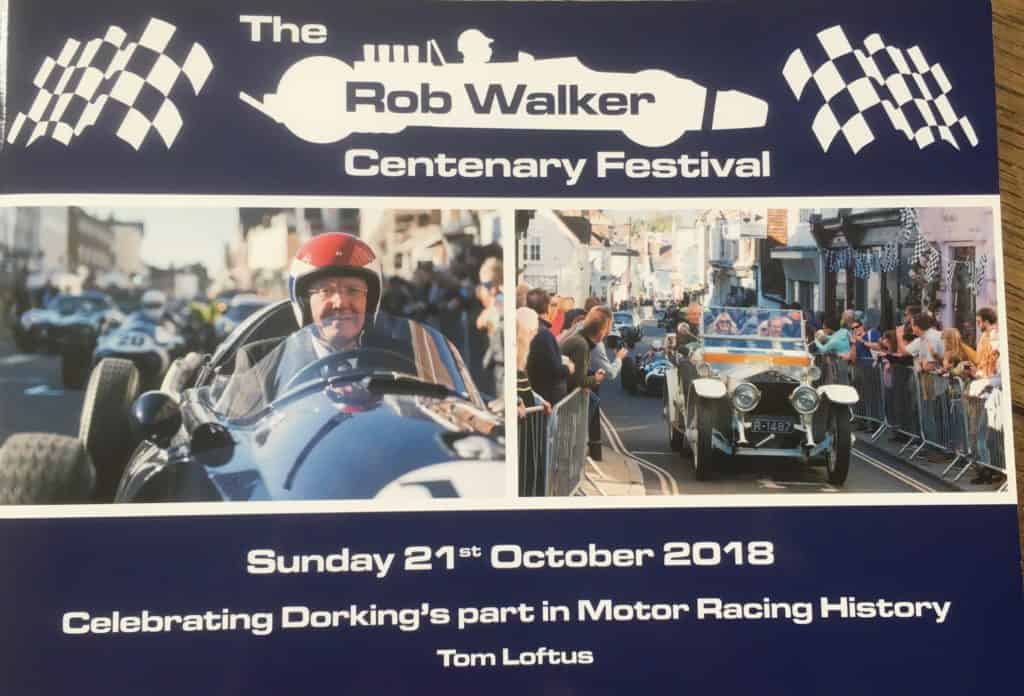 The Rob Walker Centenary Festival – £4.00
This book features images from a unique event which took place in Dorking, Surrey on 21st October 2018; the Rob Walker Centenary Festival.Over 2 1/2 years of careful planning, and more than a little bit of luck, culminated in a parade of historic Rob Walker racing cars around the town centre a display of beautiful classic cars.